My Bauer Custom Skate
My Bauer Custom Skate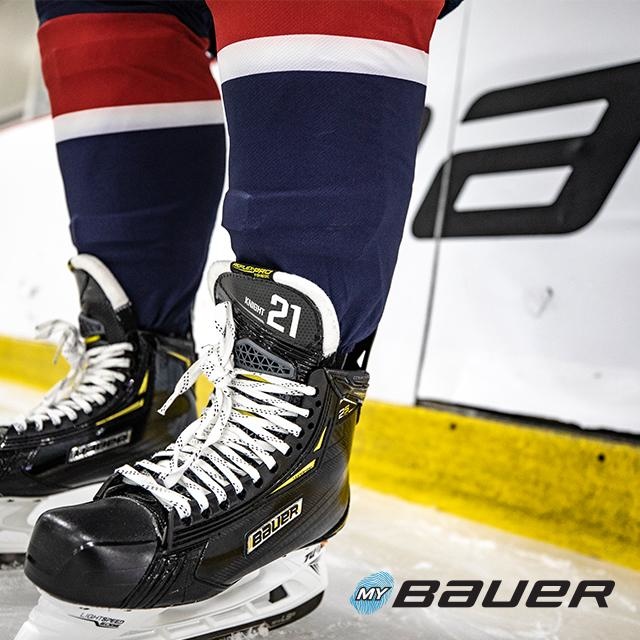 The MyBauer Custom Skate Platform
Created for Best-In-Class Customization


Easy, Efficient and Detailed


Delivering on a unique and engaging
in-store experience
Jerry's Hockey can help you create the Bauer Skates of your dreams in only five easy steps!
Step 1:  We will build you a player profile.
Step 2:  We use Bauer's 3D scanner to scan your foot. Creating the perfect scan will allow Bauer to create a custom mold of your foot allowing for the perfect skate!
Step 3:  We will analyze the scan. We add notes to let Bauer know if you have any trouble spots or need two different size boots.
Step 4:  We let you configure and customize your skates.
Choose your eyelet options: Injected or Standard

Choose your skate liner: Lock-Fit Pro or Grip Liner

Choose your tongue: Bauer has five (5) options to choose from:

Flex-Lock Pro

Re-Flex Pro

Classic Felt

Classic Double Felt

Classic Molded Felt

Choose your steel: Bauer has three (3) options to choose from:

Tuuk LS Pulse TI Edge Steel

Tuuk LS Pulse Edge Steel

Tuuk LS Carbonlite Steel


Personalize your skates with YOUR Name and Number

Name - 13 Characters Max (including spaces)

Number - 2 Numbers Max
Step 5: We submit your order to Bauer!
Now the hard part... In about eight (8) weeks your Custom Bauer Skates made to YOUR Specification arrive!
Jerry's Hockey has Four Bauer 3D Fit Scanners to help customers create their perfect skate.